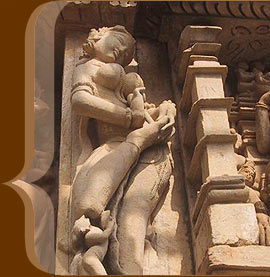 This seven-day cultural extravaganza is held every spring in the town of Khajuraho in order to celebrate the glory of the temples. It is believed that classical dance basically comes from the Hindu temples and attained it's maturity. This Festival is a cultural festival for the celebration of the Indian arts- dance and music handling down from generation to generation. The Khajuraho Festival of Dances shows the best classical dancers and dances in the country. It is held during the month of
February from 20th to 26th
. Different classical dances are presented during this festival, like the -Kathak, Bharatnatyam, Kuchipudi, Odissi, Manipuri etc.
The main idea behind this dance festival of india is to make the cultural heritage of Khajuraho relevant to the present society and preserving it for the coming generation. On this occasion a number of renowned artists and craftsmen participates in the workshop and seminar and present their art to the numerous visitors and tourist. And during this seven days festival, there is also a market in an open field where the visitors can get the entire local made articles of Khajuraho. This festival is known not only in our country but also to the outside world at large.
This festival has reached almost epic proportions transcending borders to reach enthusiasts the world over. Classical dancers are on a rare high as they take center-stage to perform, with the floodlit temples in the Western section providing a spectacular backdrop.