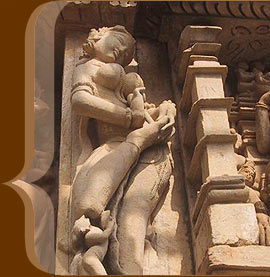 Destinations Covered : Delhi - Varanasi - Agra - Khajuraho - Orchha - Gwalior - Shivpuri - Ujjain - Mandu - Bhopal - Sanchi - Panchmarhi - Jabalpur - Mumbai
Duration : 18 Nights / 19 Days
Day - 1 : Arrive - Delhi
Arrive Delhi upon arrival you will be met by our representative and transferred to hotel. Overnight at hotel.
Day - 2 : Delhi
In the morning take a city tour of New Delhi covering Laxmi Narayan Temple – The Place of Gods, India Gate - The memorial of martyrs, Parliament House – The Government headquarters, Afternoon is to enjoy city tour of Old Delhi covering Jama Masjid - The largest mosque in Asia, Red Fort - The red stone magic, Gandhi Memorial – The memoir of father of the Nation. Also enjoy sound & light show at Red fort. Overnight at hotel.
Day - 3 : Delhi - Varanasi
In the morning transfer to airport to catch flight to Varanasi – The mind soothing destination, on arrival transfer to hotel. In the afternoon take an excursion to Buddhist town of Sarnath– The hallowed spot where Lord Buddha preached his first sermon after enlightenment. Overnight at hotel.
Day - 4 : Varanasi - Agra
At dawn boat ride at River Ganges, followed by a city tour covering Alamgir Mosque or Beni Madhav Ka Darera, Dasaswamedha Ghat , Benares Hindu University & The Bharat Mata Temple. After that you will be transferred to Airport to catch flight to Agra. On arrival transfer to hotel. In the afternoon visit Red Fort – A massive structure on the bank of river, Tomb of Itmad-ud-daula's Tomb – The exquisite marble structure which was a forerunner of the Taj. Also take an excursion to Fatehpur Sikri – Better known as the deserted city of Mughal dynasty, it still retains its magnificence. Overnight at hotel.
Day - 5 : Agra - Khajuraho
Early in the morning visit Tajmahal – A beautiful poem written in white marble & the most extravagant monument ever built for love, After that transfer to Airport for flight to Khajuraho. On arrival transfer to hotel, In the afternoon a city tour covering Western / Eastern group of Temples – The Temples at Khajurahoare a unique gift to the world. Overnight at hotel.
Day - 6 : Khajuraho - Orchha - Gwalior
Today morning you leave Khajuraho for Orchha – Medieval legacy in stone. Get off to visit Jehangir Mahal – The strong lined Palace counter balanced by delicate chhatris and trellis work , Raj Mahal – The plain exteriors give way to interiors with exquisite murals Ram Raja Temple – one of the most exquisite in India, Chaturbhuj Temple – Built upon a massive stone platform, later in the day drive to Gwalior. On arrival check in into hotel. Overnight at hotel.
Day - 7 : Gwalior - Shivpuri
Today you will visit the magnificent Gwalior Fort – This Fort complex houses a marvellous Palace, Man Mandir Palace, Sas Bahu Ka Mandir, Suraj Kund etc, the tombs of Tansen and Ghias Mohammed, the Museum in Jai Vilas Palace – Better known as the Jivaji Rao Scindia Museum which is the main attraction of the gigantic Palace and the newly built Sun temple – Located on the outskirts and dedicated to Sun God. Then drive to Shivpuri where you arrive in time for dinner & overnight stay at the hotel.
Day - 8 : Shivpuri
The day begins with a visit to elegant chhatris or cenotaphs of Shivpuri. You also visit Bhadaiya Kund, a scenic spot noted for its natural mineral spring. After lunch and rest, there is a refreshing visit to Madhav National Park (the sanctuary is like a dream come true for wildlife patrons ). Overnight at hotel.
Day - 9 : Shivpuri - Ujjain
You leave after breakfast for Ujjain carrying your packed lunch. On arrival check in into hotel where you will spend the night.
Day - 10 : Ujjain
After breakfast enjoy sightseeing trip of renowned pilgrim centre. Visit Mahakaleshwar Temple –The temple enshrines one of the 12 Jyotirlingams, Bada Ganeshji Ka Mandir – The largest ornate statue of Ganesha makes this temple a popular picnic spot, Kaliadeh Palace - The sacred river Shipra runs through this city of temples. Overnight at hotel.
Day - 11 : Ujjain - Mandu
You depart after breakfast for Indore where you visit the unusual Kanch Mandir – This Jain temple is very plain from outside but inside is completely mirrored with pictures of sinners being tortured in the after life, and the Museum – It has one of the best collections of medieval and pre-medieval Hindu Sculpture in Madhya Pradesh. After lunch you carry on to Mandu, arriving in time for a relaxed evening and an overnight stay at the hotel.
Day - 12 : Mandu
Mandu, The city of Joy, is full of legends of love and glory, specially those of Baz Bahadur and the beautiful Roopmati. In Mandu, you visit several noteworthy palaces and pavilions some of which are Ashrafi Mahal- The Palace of gold coins & was conceived as an academic institution, Rewa Kund Group – it includes Rewa Kund, and the Hindola Mahal (swinging Palace). Overnight at hotel.
Day - 13 : Mandu - Bhopal
After breakfast you leave for Bhopal. Enroute have your lunch at Indore and arrive in time for tea at Bhopal. You enjoy a free evening to shop and relax. Overnight at hotel.
Day - 14 : Bhopal - Sanchi - Bhopal
After breakfast you leave for Sanchi – The ancient seat of Buddhist learning. The places worth visiting are Archeological Museum – The most interesting pieces are the lion capital from the Ashoka pillar, a yakshi hanging from a mango tree and a beautiful Buddha figure in red sandstone. Great Stupa – This is the finest work of art at Sanchi and amongst the finest examples of Buddhist art in India. You return to Bhopal and spend time in this fascinating city. Visit Taj-ul-Masjid – It is one of the largest mosques in India. Laxmi Narayan Temple & Birla Museum. Overnight at hotel.
Day - 15 : Bhopal - Panchmarhi
You leave for Panchmarhi after breakfast. Enroute you visit Bhimbetka where paintings in over 500 caves depict the life of the pre-historic dwellers in vivid, panoramic detail. Enroute have your lunch.You arrive at Pachmarhi for a relaxed evening and overnight stay at the hotel.
Day - 16 : Panchmarhi
Panchmarhi is surrounded by beautiful forests, full of breathtaking waterfalls, serene pools and quiet glades. After a day's sightseeing you behold the sunset at Dhupgarh, the highest point in the Satpuras.
Day - 17 : Panchmarhi - Jabalpur
After breakfast, you leave for Jabalpur with packed lunch from tourist motel Pipariya. You reach Jabalpur in time for dinner and overnight stay at the hotel.
Day - 18 : Jabalpur - Mumbai
Today you will be transferred to station to board train to Mumbai. Overnight in train.
Day - 19 : Departure - Mumbai
On arrival we will transfer you to hotel. In the afternoon enjoy a short city tour of Mumbai followed by dinner and departure transfer to International Airport to board flight back home.